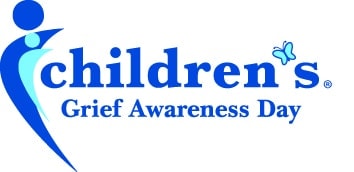 Did you know that there is a calendar for National Day Celebrations? You should take a moment to google it; you might be surprised by what you find. There is a National "Donut" Day, National "Taco" Day, National "Cook for Your Pets" Day, a National "Men Make Dinner" Day and a host of others! With all the "other" National Days, it is easy for significant days to get lost or lose their importance because of "National Day" over-saturation. This year, we would like to encourage you to participate in a special day for children: Children's Grief Awareness Day on Thursday, November 16th. Children's Grief Awareness Day was established to help us all become more aware of the needs of grieving children and the benefits they obtain through the support of others. Did you know that 1 in 5 children will experience the death of someone close to them before the age of 18? Additionally, 1 in every 20 children will lose a parent or both parents by the time they reach the age of 15! https://www.childrensgriefawarenessday.org/cgad2/pdf/griefstatistics.pdf. Based on current statistics, the likelihood that you know a child who is grieving is substantial. So, on this Thursday, November 16th, please take time out to pause, reflect and support grieving children everywhere to let them know they are not alone.
What can you do on November 16th to help let grieving children know that they are not alone:
• Wear Blue
• Post Hope the Butterfly on social media
• Challenge family members, friends and co-workers to volunteer at a children's grief agency
• Write letters of encouragement to grieving children
• Decorate a blue butterfly at The WARM Place in memory of your loved one
• Donate to a children's grief agency
Grieving children need support, and the 1st step in that support is for all of us to become more aware of what they are going through. Experiencing a death can be overwhelming for anyone, but it is especially difficult for children. Grieving children experience a wide range of emotional and behavioral symptoms after the death of a loved one, including regression, worry and concern about their safety and the safety of other loved ones, inability to concentrate, physical symptoms (tummy aches and headaches) and feeling alone and different from their peers. Children's Grief Awareness Day is a wonderful opportunity for you and the community to provide hope, healing and support by letting grieving children know that grief is normal and they don't have to face their grief alone.
Warmest wishes,
Teresa Bartnicki, M.A., LPC-Intern