On August 23rd over 300 friends of The WARM Place  gathered at River Crest Country Club to celebrate our 25th Anniversary  at our annual fundraiser, "A Cool Night."  This year our signature event was "A Cool Night to find the kid in you"– the ultimate celebration full of your favorite things as a kid!  VIP guests arrived at 6pm to mingle with other WARM Place sponsors and dine on tasty hour'derves set to the elegant entertainment from the Johnny Guaderamma Jazz Band.  The main event kicked off at 7pm where guests were welcomed with an "grown up" lemonade stand!  Our event emcees Katherine Giuliani and Parks Blackwell shared their personal story of attending The WARM Place as a family, and how much it helped them during the most painful time in their life.  Guests enjoyed a playful menu of childhood favorites, including a macaroni & cheese bar, slider station, topped off with fried PB&J's and ice cream sandwiches for dessert!  Guests danced the night away to musical stylings of Trey and the Tritones who kept the crown energized and moving!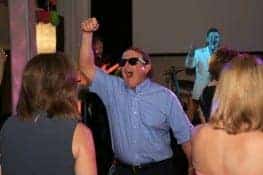 In between songs and dinner, guests stopped at our photo booth as well as our caricature artist to memorialize the evening!  You couldn't help but feel like a kid again as our balloon artist and magician walked through the crowd amazing the guests with tricks and treats, including balloon bouquets and swords for the gentlemen!  
A Cool Night was a true night of FUNdrasing- guest didn't have to miss a minute of the party while bidding on our Super Cool Silent Auction from their own mobile devices.  Auction items included everything from sports tickets to vactions, and even our one live auction item of the night, 2 adorable puppies that found a new loving home!   The return of our "Sponsor A Child" campaign allowed guests to see the faces and read the stories of children receiving grief support services at The WARM Place.  Guests could Sponsor A Child for one month of grief support for $125 or one night of grief support for $50.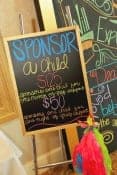 A new element we introduced this year was the "Heads or Tails Game" where guests could buy in for $20 for a chance to win the Ultimate Wine Lovers Package!  This fun game had everyone laughing as guests chose heads or tails until the ultimate winner was chosen at the end- it was a huge hit!  The night was capped off by a touching 25th Anniversary toast from the Giuliani family to our founders Peggy Bohme and Dr. John Richardson.  A Cool Night was full of love and support for The WARM Place.
 A special thank you to our committee chair Casey Oliver and the entire Cool Night 2014 committee for their hard work and dedication ensuring the success of this event!  Thank you to all of our sponsors, staff, volunteers, Board of Directors, friends and everyone who helped make A Cool Night 2014 the biggest success ever! Your support truly makes a different to our organization, and we are very grateful.  After calculating all the donations and expenses, we are pleased to present the final numbers to you.
DRUM ROLL PLEASE . . .
Our NET income for A Cool Night 2014 is" $239,687, which is a 44% increase over last year and a record-breaking high for a WARM Place event – WHOA!
Here is the financial breakdown:
• Sponsorships: $178,500
• Matching/Challenge Grant: $50,000
• General Donations: $23,725
• Silent/Live Auction: $20,545
• Sponsor a Child: $11,450
• Individual Tickets: $4,125
• Raffle/Heads or Tails Game: $2,350
Gross Income: $290,695
Expenses: -$51,008
Net: $239,687
We stand in awe of the generous support of The WARM Place from our sponsors and attendees! Because of this support, we are able to continue providing love, encouragement and companionship at no charge to grieving children who are dealing with the biggest disappointment of their lives – the death of a brother, sister, mother, father, or other loved one. Rest assured that children at The WARM Place never have to grieve alone.
We are thrilled with the outcome of A Cool Night and are looking forward to next year!  Stay tuned to thewarmplace.org for info on A Cool Night 2015!
To view all event photos visit our Facebook page!
-Shelley Spikes, Director of Events and Volunteers
 Special thanks to ALL of our Sponsors and Supporters…
Founders' Table Sponsors
Anne T. and Robert M. Bass
Marsha and John Kleinheinz
Platinum Sponsors
Anonymous
Jeffrey T. Kremer
Russ and Melba Simons Brown
Gold Sponsors
Apex Capital Corp
Lucy Darden
Frost
Katherine and Pete Giuliani
Jane Korman
MAT Trust
Radiology Associates of North Texas
Range Resources
Silver Sponsors
Parks Blackwell
BrothersKeepers
John and Christy Fonvielle
Caroline and Russell Green
Bill and Greta Hallgren/Elizabeth and Mark Jones
Howard and Joan Katz
Bob and Elizabeth McCarthy/Erika and Dan McCarthy
RMP Industrial Supply
Texas A&M University School of Law
Bronze Sponsors
David and Tricia Amend
Sally and Larry Brumbaugh
Candlelight Inn
Jeff and Katie Farmer
GM Financial
Bill Harrell
Mark M. Jones & Associates, P.C.
Casey and Mark Oliver
Nathaniel O. Owings
Pier 1 Imports
Trademark Property Company
Village Homes
XTO Energy
Copper Sponsors
Susan Adams
Belmont Icehouse
Dan and Lisa Brock
Clear Fork Royalty
Dawson Parrish, PC
Mike and Ruth Anne Douglass
Dunaway Associates
Mary Jane and Crawford Edwards
Freese and Nichols
Katie and Tyler Fultz
Gene and Marsha Gray
Ann and Bill Greenhill
Holland Services
Kelly Hart & Hallman
Mary-Margaret and Eric Lemons
Bryan and Christy Livingstone
Matthew and Jessica Morrison
Nick and Maria Murray
Jane and Roger Nober
John Ratliff
Joe and Sali Regan
Lori and Tom Roberts
Ross Law Offices, P.C.
Charlie and Melissa Snow
The Allen Firm
The Graphix Store
Wes Williams
When Jade Smiles
Winstead
Named Sponsors
Frank W. Neal & Associates, Inc. – Party Favor Sponsor
OmniAmerican Bank – Photo Booth Sponsor
Pediatrix Medical Group – VIP Pre-Party Sponsor
Texas Capital Bank – Entertainment Sponsor
Thompson & Knight LLP – Dessert Sponsor
Various Donations
Denbury Resources
James and Nancy Grubbs
Lockheed Martin
Lone Star Communications
Darlene and Howell Mann
Priscilla Martin
Robert and Ellen Rogers
Rosalyn G. Rosenthal
Claudia Stepp
Helen and Michael Todora
UNT Health Science Center
Special Thank Yous
Bill Tyler Media
Fort Worth, Texas Magazine
JohnSon's Press
River Crest Country Club