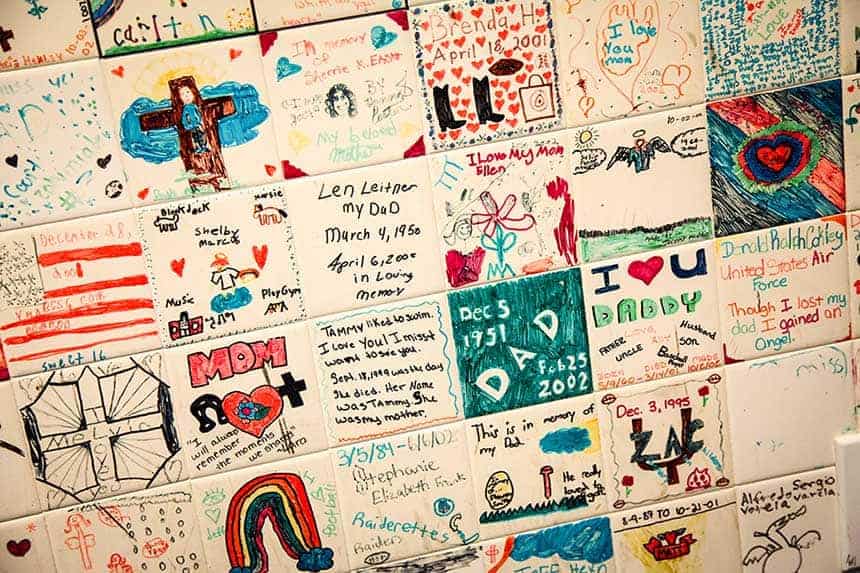 What is The WARM Place?
The WARM Place (What About Remembering Me Center, Inc.) is a nonprofit 501(c)(3) agency, and our mission is to provide grief support services to children ages 3-18 and their families, as well as young adults ages 19-25, who have experienced a death loss. We also provide a continuing program of community education and outreach.
How much does it cost to attend?
Our services are offered free of charge. The WARM Place relies on donations from many individuals, businesses, and private foundations to guarantee that families will never be charged a fee for our services.
How do I join a group at The WARM Place? Can I drop in?
After a death occurs, a parent or guardian may schedule an appointment for the family to visit The WARM Place and to talk with a professional counselor about the death loss. Appointments are available Monday - Friday at 9:00 a.m., 11:00 a.m., and 2:00 p.m. During the first visit, the counselor will explain the program, talk with each family member, and determine when the family will come to The WARM Place for their first group meeting. Call us at 817-870-2272 to get started.
We do not permit drop-ins in any of our groups due to the confidentiality of our clients. We would be happy to arrange an appointment for you, so please call us at 817-870-2272.
Are all children accepted into the groups?
No. The WARM Place program does not fit the needs of every child. The purpose of an intake appointment is to assess each child's needs. If a child's situation requires other intervention, the counselor will refer the family elsewhere (example: individual counseling).
How are the groups organized?
Groups are divided by age (K-3rd, 4th-5th, 6th-8th, and 9th-12th) and the type of death loss the child has experienced. Each night of the week is designated for a different type of loss: parent, brother/sister, and grandparent/friend/other family member.
When do the groups meet?
Our regular ongoing groups meet every other week on either Monday, Tuesday, Wednesday, or Thursday evening from 6:15-8:30 p.m.
The Young Adult and Preschool groups meet at different times throughout the year. You can find more information about those groups on our Services Page.
What should I expect when I attend group?
On group nights, families gather for a pot-luck dinner and conversation, and then break into small groups by age. Each group has its own volunteer facilitators who lead the discussion and direct age-appropriate activities designed to help participants express their emotions constructively.
What types of activities do the children and families participate in during support group sessions?
Our trained counselors develop and monitor all of our group activities to encourage age-appropriate expressions of grief. Art, creative writing, selected readings, games, and other activities are used to help children work through their emotions and allow for the expression of feelings.
Where can I see the schedule for group meetings?
Our calendar of group meetings and special events can be accessed here.
What should I bring to the pot-luck dinner on my group night?
Any type of entrée or vegetable works great. Please bring enough to feed 4-6 people. On a typical night, families bring fried chicken, salad, pasta dishes, casseroles, meatloaf, green beans-you name it, it's here!
We ask that you please do not bring a dessert.
How can I support The WARM Place?
We would love to have your support!  There are several 'Ways to Give' to The WARM Place.  Whether you are interested in donating your time, your resources, or contributing in another way, we have an option for you to help The WARM Place.
For volunteer opportunities, click here.
If you would like to see other ways you can support our grief support program, follow this link.
Can I tour The WARM Place?
Yes! We would love for you to see our beautiful agency and learn more about our grief support program for children. Contact us at 817-870-2272.
Can The WARM Place provide a guest speaker for my community group?
Yes. Contact us at 817-870-2272 for more details.
Do you offer Continuing Education Units (CEU's)?
Yes, we do offer CEU's at a fee for our facilitator training as well as our counselor workshops. Please contact us at 817-870-2272 for more details.
Are there internship opportunities available at The WARM Place?
Yes, we do offer both undergraduate and graduate internship positions for those pursuing a degree in human services (counseling, psychology, family studies) as well as other degrees such as Marketing and PR. Click here to see what internship options are currently available.
Do you offer a program for adults?
While children are meeting in their respective groups, the parents/guardians meet separately to learn how to manage their grief and how to help their children at the same time.
Does The WARM Place offer counseling services?
No, we offer peer support groups. At The WARM Place, we remain committed to a "companioning" approach in our work with grieving children. We believe that grief is a normal behavior in reaction to a significant death loss. As children work through their grief, they share their stories and hear the stories of others with similar losses. The sharing of stories allows them to incorporate the loss, not only in their heads, but also in their hearts—and that is where healing begins.
If you feel you or your child would benefit from individual counseling, we would be happy to provide names of counselors and community agencies in your area.
Do you have a brochure I can print?
Yes. Click here to download our brochure which contains answers to most of the questions on this page, as well as offering suggestions for helping a grieving child.