An important aspect of our program at The WARM Place is that there are no geographical limitations for families wanting to attend our groups and also no time limits for how long they may stay in our program. When a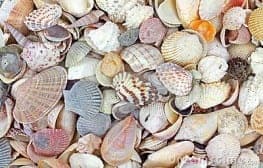 family has decided they are ready to move on from their grief journey at The WARM Place, we hold a closing ceremony in their group. This is a chance for them to say goodbye to their peers and group facilitators, an important thing as often times when a death occurs there is not an opportunity to say good bye to the loved one. During this closing time, the child is presented with a card from their group as well as a bag of shells that represent grief and the different feelings it brings. The facilitator explains to the group that the shell is smooth on one side and rough and bumpy on the other, symbolizing the different ways grief can make us feel. These shells symbolize the ups and downs that come with grieving. They help a child to remember the coping skills they have learned during their time at The WARM Place so that they can have more smooth days as they continue to cope with their loss. We tell the child to use the shells to remind them of the things they have learned and the support they got at The WARM Place when they hit a rough patch as well as to remember things will smooth out as they heal. The parent and/or guardian also have their own closing ceremony in our adult group where they are given a wooden heart to commemorate their time at The WARM Place.
Our closing ceremonies are a special tradition to us at The WARM Place. While it is sad to part ways with friends that have been made throughout a families time in group it is a happy occasion to know they have received the support they needed from The WARM Place at a time when they needed it most.
-Rachel Beal, WARM Place Intern
The Tide Recedes
The tide recedes, but leaves behind
Bright seashells on the sand.
The sun goes down but gentle warmth
Still lingers on the land.
The music stops and yet it lingers on
In sweet refrain.
For every joy that passes
Something beautiful remains
– M D Hughes