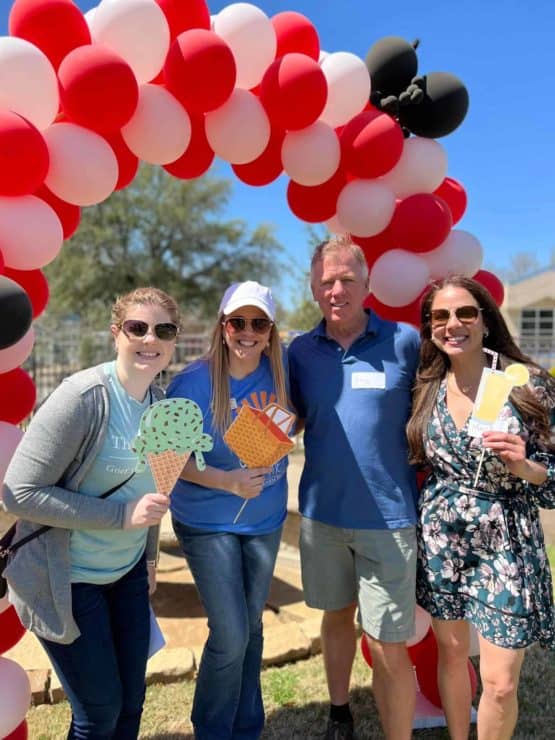 On Saturday, April 2nd, we hosted a Volunteer Appreciation Picnic to honor our volunteers! April is Volunteer Appreciation Month, and our picnic was the best way to start a month of thanks! This was also our first in-person Volunteer Apperception in three years.
The weather was perfect for our outdoor activities, we enjoyed playing yard games, listening to live music, and chatting with other volunteers. Everyone enjoyed lunch from Gus's World Famous Fried Chicken, the chocolate pie for dessert was a favorite to all!
Every year we look forward to recognizing volunteers that reached their 5, 10, 15, 20, 25, and 30 years of service marks as WARM Place volunteers, these volunteers receive plaques on our volunteer recognition wall. We also became a certifying organization with The President's Volunteer Service Awards program and had a blast surprising volunteers who reached over 100 volunteer hours in 2021!
Every aspect of our peer support groups is made possible by volunteers. It is through the commitment from our volunteers that allow us to offer our grief support services at no cost to WARM Place families. From greeting families, to serving potluck dinner, leading activities, and conversation with the children. We really mean it when we say, volunteers are the heart of our program!
Volunteer Year of Service Award recipients:
Janice Bogdanoff – 5 years
Chelsey Mills – 5 years
Cassie Parsons – 5 years
Leshia Phillips – 5 years
Larry Reynolds – 5 years
Jayme Sisk – 5 years
Nancy Strickland – 5 years
Sally Vela – 5 years
Brian Hamlin – 10 years
Pam Mooney – 10 years
Elizabeth Peralez – 10 years
Renee Yingling – 10 years
Russell Green – 15 years
Hutch Beach – 20 years
Sandra Boulden – 30 years
President's Volunteer Service Award recipients:
Gregg Odell – 262 hours
Michelle Fulbright – 135 hours
Irene Nute – 127 hours
Jim Koss – 119 hours
Jo Connelly – 115 hours
Marsha Coke – 106 hours
Michael Williams – 104 hours
Miranda Peterson – 101 hours