One of the most common feelings children experience on their grief journey is being angry, irritated or annoyed. It is important to normalize these feelings for children and to allow them to discuss them. Once they have identified and discussed what they are feeling angry about, they can brainstorm appropriate ways to express their anger.
Recently, our children's groups were able to share their feelings by making a "What's Bugging You?" card. This activity is simple and can be done at home.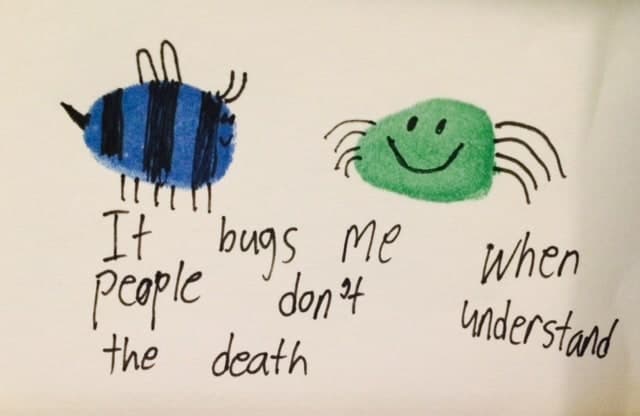 Supplies needed:
Unlined notecards
Colored Ink pads
Sharpie
Optional: Ed Emberley's Complete Funprint Drawing Book
Step 1: Have the children create or draw bugs on their notecard. They can use the Ed Emberley's Complete Funprint Drawing book as a guide for making bugs using their thumbprints. Parents can google thumbprint bugs for examples, too.
Step 2: Next to the bug(s), have the child(ren) write down something that has bugged them, annoyed them, or made them feel angry.
Step 3: Designate a special place and label it "The Bug Board" for children to place their "What's Bugging Me?" cards. This can be on the refrigerator or on a cork or bulletin board. Set aside a special time to discuss their cards and brainstorm ways to express their feelings in a healthy manner. Processing the card with your children can help them to identify their emotional triggers. When children can talk about their feelings, they become less overwhelming, less upsetting and less scary.
-Teresa Bartnicki, Counselor