In June of 2012 I received the phone call that changed our lives forever. Jake, my husband, and the father of my child, was gone. He had committed suicide.
Jake suffered from untreated bipolar disorder. And like many others in the same situation, he did not want to be medicated into someone he wasn't.  Unfortunately, we had been separated for about a year, but we saw each other almost daily. We had one thing in common that we both agreed was the most wonderful thing in the world, our son, Tucker.
Our lives were irrevocably changed from the moment I received that call. I instantly became a widow, a single parent, the sole decision-maker. My son became a child without a father. It's sorrowful and chaotic and scary. There are so many things that you have to do immediately…Explain to your almost seven-year-old that his father had chosen to end his life, make phone calls to family and friends, make arrangements for the service, figure out what to do with the house no longer lived in, a car that isn't in your name, credit cards, bills…so many decisions that at some point, I was just done. I couldn't make any more decisions.
I can remember the first time I was alone, several days after Jake died. I was sitting in my car and I remember thinking…"How can all of these people just go about their normal lives? Don't they know what's happened? Don't they know that everything has changed?"
After the service and when we had to return to our "normal" lives, I knew I had to do something for Tucker immediately. I did not know what my options were, but I knew he would need some sort of counseling. So, I Googled it. Literally, I typed in something along the lines of 'grief counseling for children' and stumbled upon The WARM Place. Jake died in June, we went to our first group night in November. I really did not want to go. I did not want to sit in a room with a bunch of other sad people and talk about our feelings. I had been in counseling with Jake previously and it was not the experience I had expected so I just knew this was going to be lame and a waste of my time. I was So. Very. Wrong. I sat in a room with people who had been devastated in so many ways. People whose experiences were so much worse, or so different from ours and a few that had experienced similar devastation…people who cried for themselves, cried for me and with me. But also people who I laughed with and made me feel like I wasn't the only one. Even if the death experiences were different, we were all there because we had children or grandchildren, nieces, nephews, step-children that we loved and wanted to help heal.
The two most important things I learned at The WARM Place, took with me, and have passed along, are…there are no wrong feelings, and there is no right way to grieve. This is so incredibly important for people to hear and believe. To know in your soul that what you feel is okay, is priceless.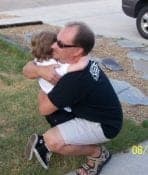 On a few occasions when I was unable to take Tuck on our group night, his Grandmother or Grandparents took him. His Dad's parents. They were so moved by and pleased with their experiences at The WARM Place that they asked us if we thought it would be okay if they purchased a plaque in memory of their son and Tucker's father, Jake, for The WARM Place's Wall of Memories. Of course, we were thrilled! What better way to commemorate our time there than to have a plaque in Jake's name, permanently installed on the Wall of Memories in The WARM Place backyard.
We were so sad to go. You form bonds with people, learn their stories and travel with them on their healing journey. But, it was time. We spent almost three years at The WARM Place and we knew that someone else needed to take our place and begin their journey. But we will always belong there and always be a part of The WARM Place with Jake's name on the Wall of Memories. I can't imagine those three years without The WARM Place. There is no value great enough to put on our WARM Place experience – we are forever grateful to the incredible employees and volunteers. Thank you for all that you do for all of us.
Heather W., former WARM Place family