A group of local firefighters will be climbing Mt. Denali in Alaska this June to raise awareness and funds for The WARM Place.  Meet one of the climbers, Clint Brewer.
1. Tell us a little bit about yourself and what you do for a living.    
My name is Eric Clint Brewer. I'm 36 years old. I'm a fire fighter in Fort Worth and have been here almost 13 years. I grew up in the metropolis of Azle, Texas. I like spending time on patios with family, friends and anyone that is a cool or nice person. I only dress professionally so it's pretty much t-shirts, tank tops and board shorts from Rangers Opening Day until Halloween. I'm an absolute nut about bacon and other pork products. My favorite band is Creedence Clearwater Revival and I love classic rock………. And 80's music which is also considered "classic" these days.
2. How did you learn about The WARM Place and what inspired you to choose TWP to benefit from you climb?
I work with our FD's Association and PAC and have worked with TWP before and one of my good friends has a son who has benefited from going to TWP. I respect and admire the great work TWP does and also wanted to help a local cause.
3. Why is it important to you to raise awareness and funds for TWP through your climb?
Again, I LOVE what TWP does for grieving children. Working as a firefighter, I know some of the horrors children can experience and I want to do anything and everything I can do to support those that support them.
4. Tell me how you first got involved with climbing and what you are doing to train for your Denali climb.
I've loved climbing since I was a child. I climbed Pikes Peak when I was 11 and 13. I remember telling a friend on Pikes in 1992 that I wanted to one day climb the "Seven Summits." In 2010 myself and a group of friends started that dream by climbing Kilimanjaro in Tanzania, Africa. We followed that with a summit of Aconcagua in Argentina, South America. At just under 23,000 ft, it is the tallest mountain in the Western Hemisphere. In 2014 we set out for Denali also known as the "High One." Due to a week long snowstorm at high camp just above 17,000 ft, we were unable to summit. Last year I summited Mt. Rainier in Seattle, Washington. Traveling is my passion but there is nothing like climbing. The challenge it presents, the experience it creates and the bonds that are born from it are some of the things I live for.
5. What is the craziest experience you've had while climbing?
The craziest experience I've had while climbing? On summit day at Aconcagua, a storm came in right as we were starting to head down. It was below freezing temps at over 20,000 feet with winds traveling at least 30 mph. The coldest night I had ever experienced up to that point. The most exhilarating experience was coming down the head wall from Denali's high camp. Walking across a ridge at 17,000 feet with winds feeling like they'd blow you off into the clouds. Unbelievable.
6. After conquering Denali what do you think your next great adventure will be?
After Denali, I'll be heading to Nepal in September to trek to Everest Base Camp before attempting to summit Island Peak and in 2018 I hope to climb Ama Dablam which is also in the Himalaya.
Clint and his team have organized the event, "A Cold Climb for The WARM Place" and set a goal to raise $20,310 (the elevation of Mt. Denali) for grieving children at The WARM Place.   You can help support them on their mission at 2 fun events this June.

Thursday, June 2nd-Rahr Brewery come out for a fun night of cold beer and live music.  Tickets are $20 and include a commemorative pint glass and 4 beers.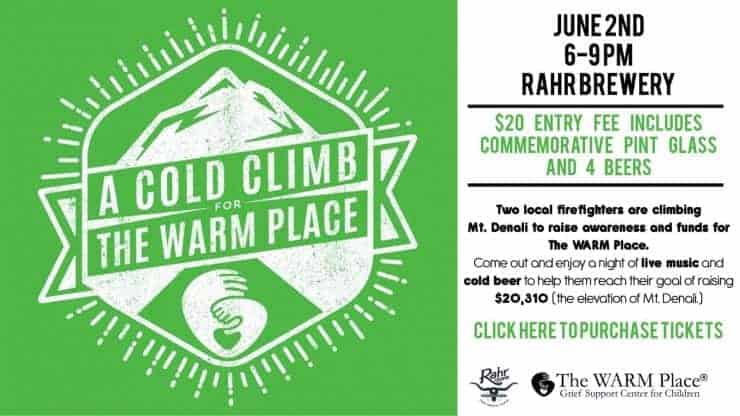 Tuesday, June 7th- GRACE in downtown Fort Worth, join Clint and this team as they serve up drinks for your happy hour enjoyment.  All donations benefit The WARM Place.
Also, "A Cold Climb for The WARM Place" t-shirts are available for just $15.  Contact Shelley@thewarmplace.org for more information.