Meet Alyson and Chance Williams – our WARM Place Classic Event Chairs! We talked with the Williams about their personal connection to The WARM Place and why they are excited for this brand new WARM Place event. We are so grateful for their leadership on the Classic committee and their love for The WARM Place mission.
---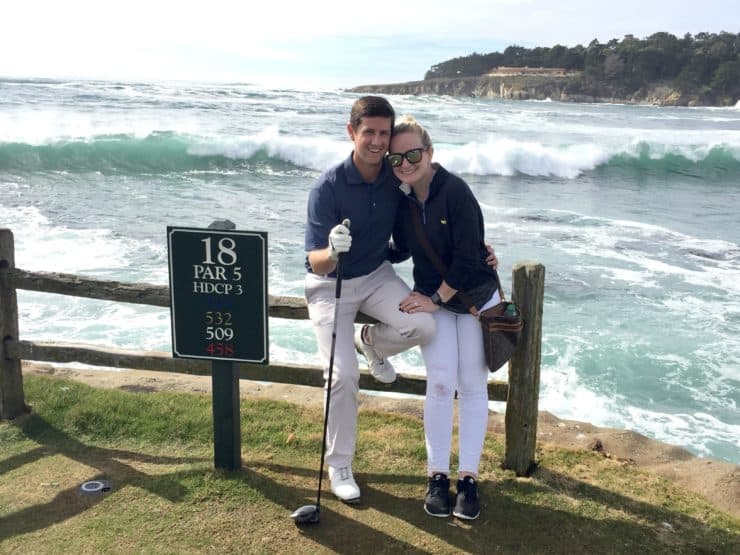 Tell us a little bit about you and your family.
My husband, Chance, grew up in Tyler, Texas, and I was raised in Dallas. We both attended TCU and started dating a few years after graduation. We were married 5 years ago, in 2016, and now our lives revolve around our sweet (fur) baby, Brains, TCU sporting events, traveling, golf, family, and sweet friends.
Why did you decide to chair the Classic committee?
Since being introduced to The WARM Place in 2018, we have attended A Cool Night, the R2RT, Family Nights, and have absolutely fallen in love with The WARM Place, their mission, and all the love that radiates when you walk through their doors. As huge golf aficionados, nothing sounded more wonderful and exciting than to combine our love of The WARM Place and golf.
What are you looking forward to at the tournament?
We are most looking forward to raising awareness to a new group of people who might not have heard about The WARM place before. Being able to bring together the current WARM Place network with the committee's group of friends and families, we are excited to have another wonderful way of not only celebrating The WARM Place, but raising money through this new event.
Why do you feel it is important to support The WARM Place?
I have personally seen how The WARM Place has helped so many families. As someone who has dealt with a lot of loss growing up, I can't imagine how impactful being able to attend The WARM Place would have been for me and my family. I know this can also be said for the Classic committee members who have also lost a loved one. The amount of support, hope, and connectedness one feels at The WARM Place is truly invaluable.
Is there anything you'd like to say to potential donors of the Classic?
It is truly because of the generous donors that makes The WARM Place such an amazing community. Without the donors, The WARM Place would not have the incredible staff, top-notch counselors, event programming, or haven for grieving families. It has also allowed for remarkable facilities, that at the same time, make it feel like a second home. In addition, the continued education of staff and technology allow for The WARM Place to adapt to our everchanging world – especially during the pandemic. 
What would you like to say to our current Classic sponsors?
Words cannot even begin to describe just how grateful we are to you. As this is the first tournament, we are so appreciative of your support and trust. Our goal is to ensure the success of this tournament, so that it may become an annual event that people look forward to every year.
---
Thank you Alyson and Chance for all of your help to make The WARM Place Classic a success! With the support of our donors, players, and committee, we hope to raise $90,000 for grieving families and children through this tournament.
The WARM Place Classic will take place on Friday, May 14th at the newly-renovated Texas Rangers Golf Club with a 1pm shotgun start. Individual and team registrations are still available, and only a few sponsorships remain! Visit our event website to register and learn more about this exciting event!