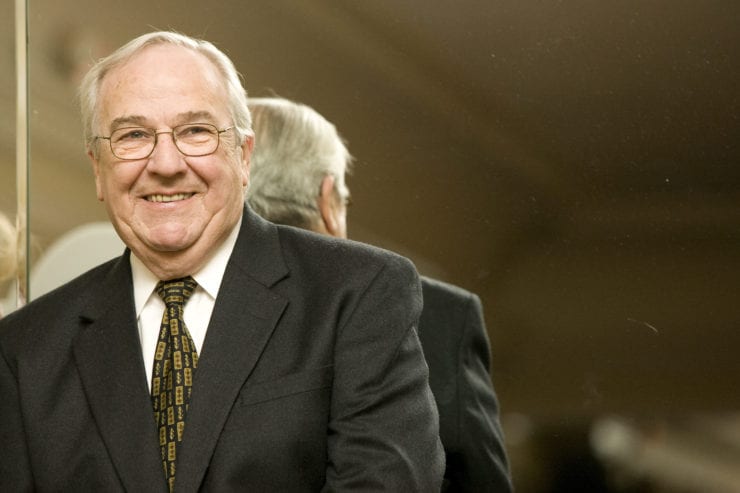 Kindhearted, intelligent, driven, and influential – these are just a few words that describe a life well-lived. Dr. John Richardson was all these things and more to his family, friends, and the Fort Worth community.
Dr. Richardson, Co-founder of The WARM Place, died peacefully on April 29, 2019, with his family by his side.
Dr. Richardson's wisdom and leadership was instrumental in the founding of The WARM Place. Together, he and Peggy Bohme brought the vision of dedicated children's grief support to Texas. A well-known and well-loved pediatrician for over 40 years, Dr. Richardson understood the need for children to be supported in not only their physical well-being, but their emotional well-being, too.
"He was an incredibly amazing person," said Bohme, quoted in the Fort Worth Star-Telegram. "If there was a need in the community, he found a way to make it happen."
In addition to co-founding The WARM Place, Dr. Richardson was involved with several other organizations and initiatives including: The Adolescent Pregnancy Advisory Board, Alliance for Children, Amon Carter Museum, The Baby Moses Project, The Brotherhood of Christians and Jews, Catholic Charities Diocese of Fort Worth, Catholic Schools Diocese of Fort Worth, Cook Children's Medical Center, Easter Seals Society, Fort Worth Exchange Club, The Fort Worth Zoo Association, Gill Children's Services, Gladney Center for Adoption, The Key School, Lena Pope Home, The Muscular Dystrophy Association, St. Andrew Catholic Church, St. Joseph Healthcare Trust, Tarrant County Medical Society, Texas Christian University, and Texas Wesleyan University.
His accomplishments were largely driven by his love for children. "He had an innate ability to help. It was very natural for him. It was part of who he was," said Bohme. In his own words, he described this life philosophy by the commandment: "Live it, don't talk it." This was very characteristic of Dr. Richardson and narrates the story of his life.
Dr. Richardson will be dearly missed by his WARM Place family and will always have a special place in our hearts. We join all those who loved him in mourning this great loss. His legacy will forever touch the lives of children in this community.