November is Children's Grief Awareness Month. This year The WARM Place has been working on a very special project in our evening support groups to remember our loved ones. Families decorated luminary bags and created a unique design in memory of their loved one. Some families wrote their loved ones' name, the names of their family members, inspiring words, cherished memories, or special messages. We will proudly display all the family luminaries to spell out the word "hope" on Thursday, November 18th in recognition of Children's Grief Awareness Day.
In addition to decorating luminaries, families also created butterflies in remembrance of their love ones. Decorating memory butterflies has been a long standing tradition here at The WARM Place. Children and families wrote their loved ones name, shared meaningful message s, and created special designs or drawings that represented their loved one.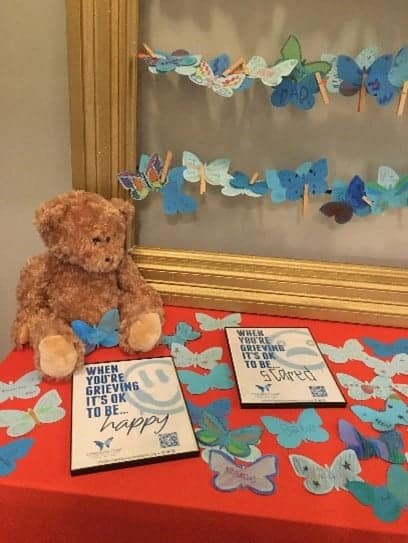 As part of our November family format, families also had the opportunity to create and write a note of gratitude to someone in their life who has been supportive in their grief  journey. Families wrote notes to members of their WARM Place group, beloved family members, friends, teachers, and mentors.
In observance of Children's Grief Awareness Day, we would like to invite community members to come by The WARM Place this week, on or before November 18th between 8:00am-5:00pm. Community members can pick up supplies to create their own luminary. You will receive a luminary bag and battery operated tealight to decorate at home in memory of your loved ones. If you would like to create your own luminary, please come by while supplies last. We also encourage you to wear blue on November 18th to show your support. We would love for you to share your pictures with us and on your social media network.