Have you ever heard of a company that invests heavily into community support instead of big advertising efforts?  We have, and we are so lucky to call them good friends of The WARM Place!  The company is Modern Woodmen Fraternal Financial, and they started supporting The WARM Place in 2016.  Their first project was funding and installing a new basketball goal in our backyard!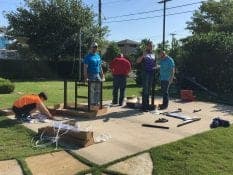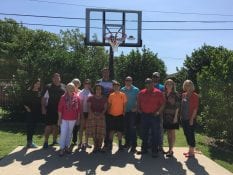 It all began when Alisa McChristian, fraternal coordinator and Region Administrative Assistant for the North Texas Region, met one of our WARM Place volunteers, Martha Nell Kennedy. Through a conversation with Martha and her sister Shelley Spikes (our PR and Events extraordinaire!), Alisa learned about the mission of The WARM Place.
Alisa was invited over to The WARM Place "home" for a tour to meet with other staff members and learn more about our mission and services. Alisa was immediately drawn to The WARM Place because "helping kids and families is such a huge part of what we do at Modern Woodmen." Alisa shared with The WARM Place that Modern Woodmen has been around since 1883 and has never used "big advertising" (super bowl commercials, billboards, etc). Instead, they feel like investing the money they would have spent on those things back in to the local community. "It makes a bigger impact when we go out and buy school supplies for kids who can't afford it, or match a fundraiser for the High School Marching band to get new uniforms than it would a billboard" Alisa explained. She went on to say how much she likes seeing their volunteer hours and money benefit the same people they go to school with, work with, or live near.
In less than a year, they not only funded and installed the new basketball goal at The WARM Place, but donated dozens of cases of water, gave a $2,500 matching gift for our "Cold Climb" fundraiser, sponsored "A Cool Night" 2016, sponsored our 2017 "Race 2 Remember Them," donated tons of program supplies, and already have plans to sponsor "A Cool Night" 2017!  Wow!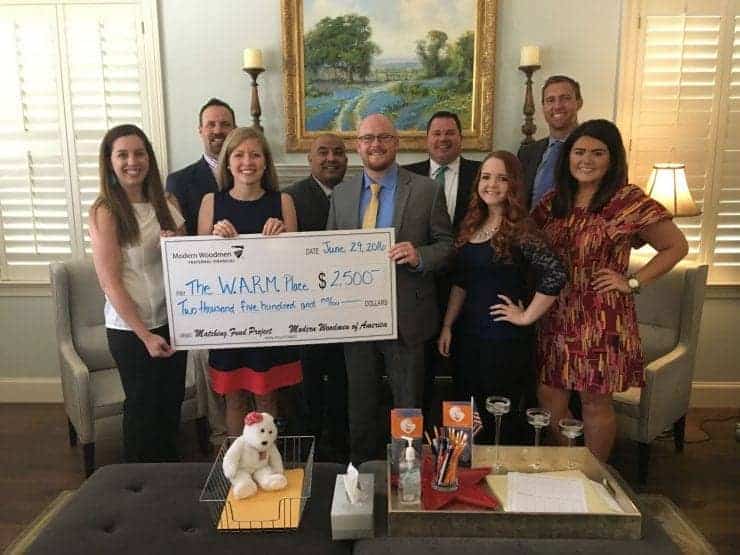 When asked why Modern Woodmen continues to support The WARM Place, Alisa said "what you guys do free of cost for the kids and families who have lost a loved one is AMAZING." Modern Woodmen has two former Police Officers who work for them, and now that they know about the grief support services provided at The WARM Place, they often tell current officers "when you have to deliver 'the news' you can also tell them about The WARM Place."
We are so appreciative of generous organizations like Modern Woodmen Fraternal Financial who believe in our mission and help bring joy and happiness back to children in our community who have been devastated by the death loss of a loved one.
Katie Lane, Director of Development