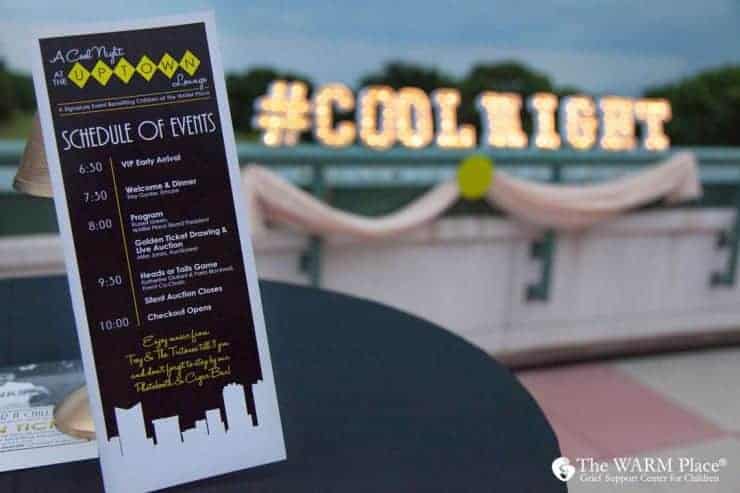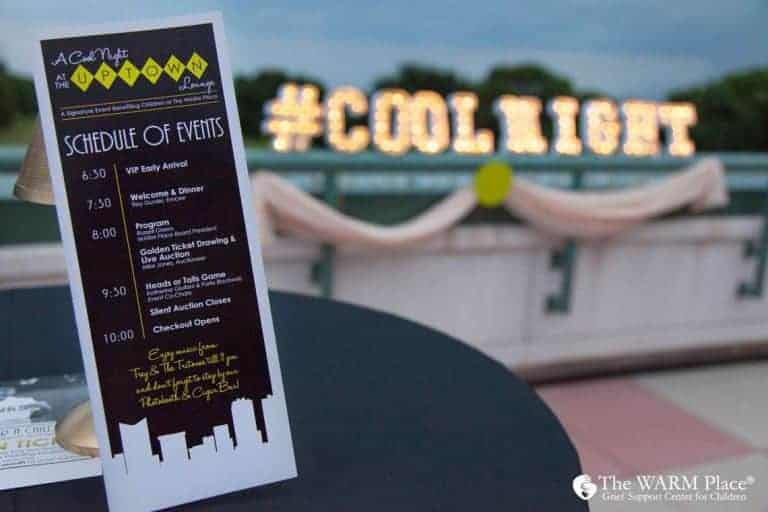 On Saturday, August 29th we hosted our signature fundraiser, A Cool Night!  This year we invited guests to take a step back in time with a 1940's inspired event.  Guests were welcomed by the "The Uptown Lounge" marquee as they arrived at River Crest Country Club ready to enjoy their evening at our 1940's nightclub!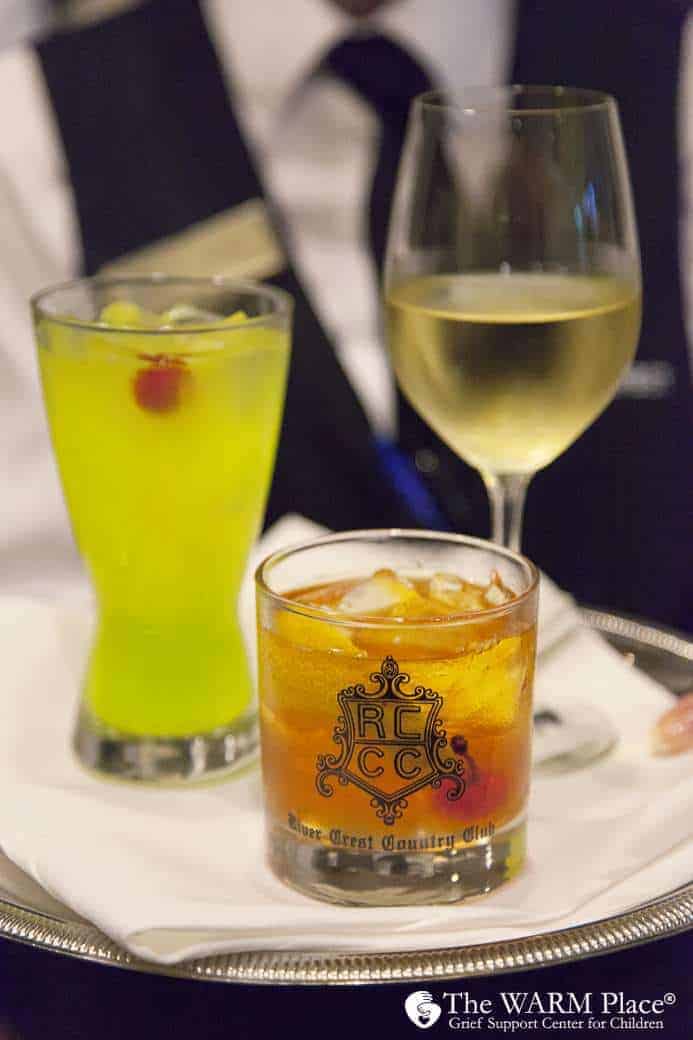 VIP early arrival began at 6:30pm which included vintage cocktails such as "The Uptown" and an "Old Fashioned."   While enjoying cocktails and hors d'oeuvres, VIP guests viewed silent auction items and enjoyed our "vintage photo op."  At 7pm the ballroom opened and soon after, dinner was served on the terrace.
Honorary event chairs, Gordon and Louise Appleman were recognized for their longtime support of The WARM Place by current WARM Place Board President, Russell Green.  Our program included a personal testimony from Russell, who shared his own story of loss and the stories of hope he has seen throughout his time as a volunteer working with children at The WARM Place.  There was an exhilarating live auction that included packages ranging from a Nascar Experience to private dining for 10 from Chef Jon Bonnell!   The thrill of the night was when our Golden Ticket winner was drawn by honorary event
chair, Louise Appleman!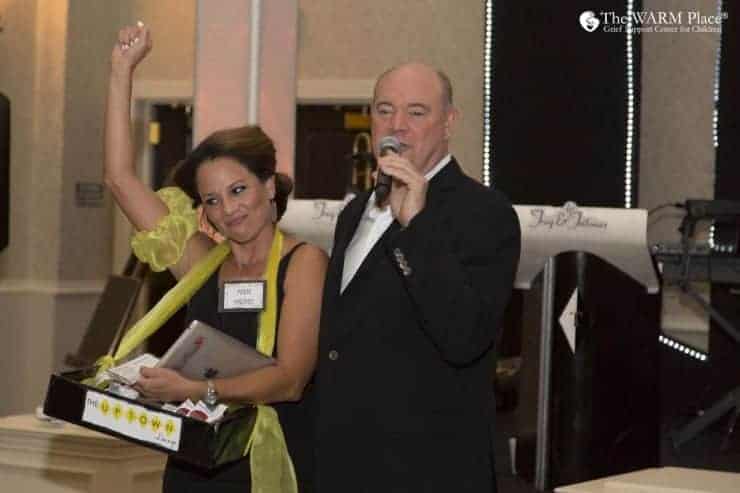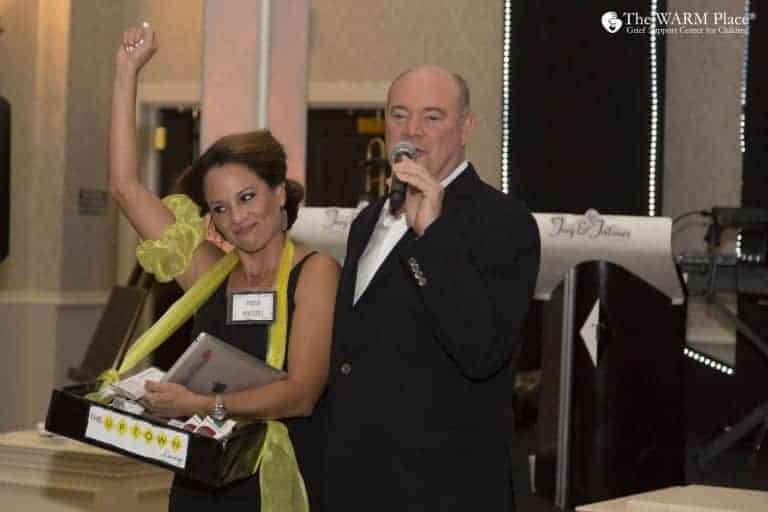 Guests purchased Golden Tickets for just $125 from our "cigarette girls" all night long for the chance to win the live auction item of their choice prior to opening up the bidding.  The lucky winner chose a private concert from The Voice's Luke Wade at Rahr Brewery which included award winning Rahr beer and catering for 40 from Cousin's BBQ!!!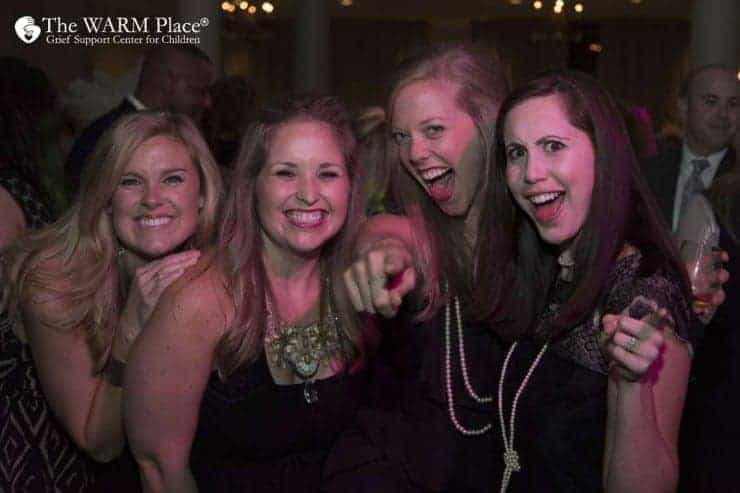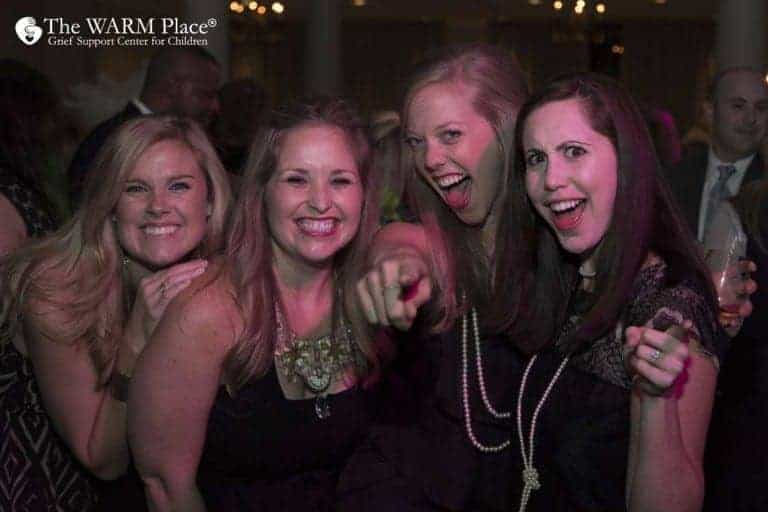 Following our program, Trey and the Tritones got the party started as guests danced the night away to classic tunes and new hits!  In between songs, guests stopped at our photo booth and were invited to enjoy a cigar from the "Cigar Bar" on the terrace!   A Cool Night was a true night of FUNdrasing–guests didn't have to miss a minute of the party while bidding on our Silent Auction from their own mobile devices.  Auction items included everything
from sports tickets to getaways.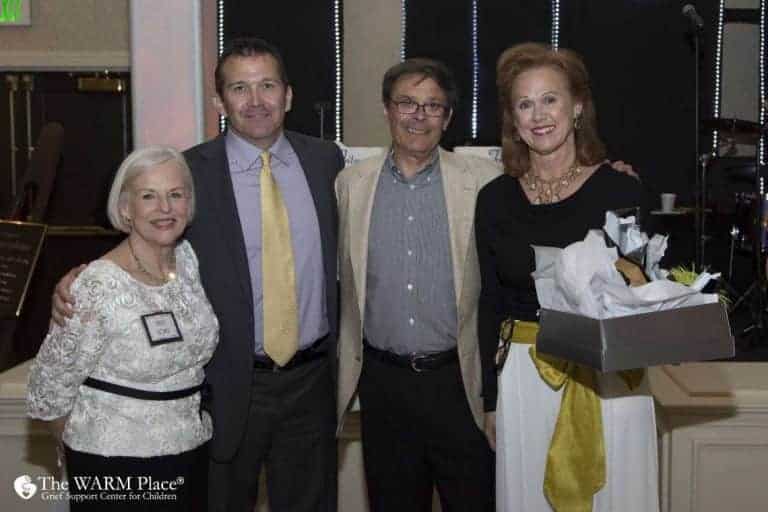 The return of the "Heads or Tails" game was a hit where guests could buy in for $25 for a chance to win an instant wine cellar of 25 bottles of wine!  This fun game had everyone laughing as guests chose heads or tails until the ultimate winner was chosen at the end and walked away with the big prize!  The night was made possible thanks to the dedication and hard work of our Cool Night event committee led by event co-chairs, Katherine Giuliani and Parks Blackwell.  Thank you to all of our sponsors, staff, volunteers, Board of Directors, friends and everyone who helped make A Cool Night 2015 an overwhelming success! Your support truly makes a different to our organization, and we are very grateful.  After calculating all the donations and expenses, we are pleased to present the final numbers to you…
Our NET income for A Cool Night 2015 is" $194,070!
Here is the financial breakdown:
• Sponsorships: $180,500
• General Donations: $20,400
• Silent/Live Auction: $29,265
• Sponsor A Child: $12,075
• Individual Tickets: $2,375
• Live Give: $2,125
• Heads or Tails Game: $1,500
Gross Income: $248,240
Expenses: -$54,170
Net: $194,070
We stand in awe of the generous support of The WARM Place from our sponsors and attendees! Because of this support, we are able to continue providing love, encouragement and companionship at no charge to grieving children who are dealing with the biggest disappointment of their lives – the death of a brother, sister, mother, father, or other loved one. Rest assured that children at The WARM Place never have to grieve alone.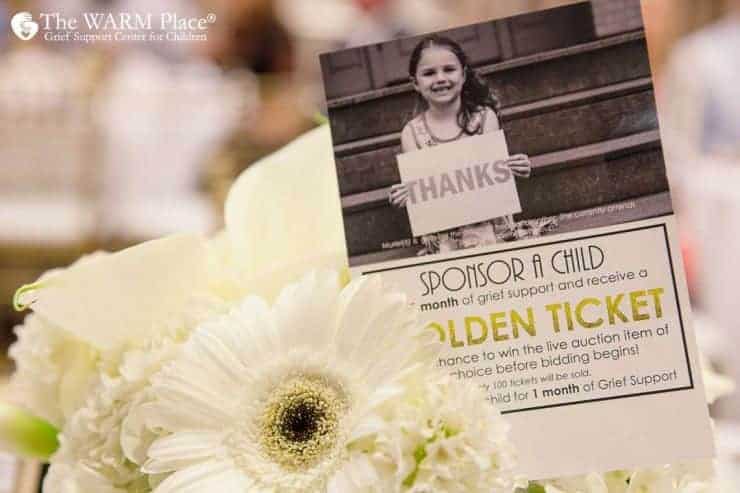 We are thrilled with the outcome of A Cool Night and are looking forward to next year!  Stay tuned to thewarmplace.org for info on A Cool Night 2016!
To view all event photos visit our Facebook page!
-Shelley Spikes, Director of Events and Public Relations
 Special thanks to ALL of our Sponsors and Supporters…
Presenting Sponsor
Anne T. and Robert M. Bass
Founders' Table Sponsor
Marsha and John Kleinheinz
Platinum Sponsors
Anonymous
Mr. and Mrs. Russ Brown
Gold Sponsors
Apex Capital Corp
BrothersKeepers
Frost
Katherine and Pete Giuliani
Jane Korman
Range Resources
Silver Sponsors
Parks Blackwell
Dan and Lisa Brock
Denbury Resources
John and Christy Fonvielle
Chuck and Sanae Fulkerson
Caroline and Russell Green
Bill and Greta Hallgren/Elizabeth and Mark Jones
RMP Industrial Supply
Thompson & Knight, LLP
Winstead
Bronze Sponsors
David and Tricia Amend
Candlelight Inn
Gary and Carol Culpepper
Jeff and Katie Farmer
William W. Harrell
Higginbotham
Steve Hofer
Joe and Dana Morrin
Nick and Maria Murray
Mark and Casey Oliver/Tony and Susan Ross
Nathaniel O. Owings
Pier 1 Imports
Rosalyn G. Rosenthal
Village Homes
When Jade Smiles
XTO Energy
Copper Sponsors
Susan Adams
Jen and Michael Appleman/Anne and David Mann
Kathleen and David Atnip
Bluebonnet Hills Funeral Home and Memorial Park
Mary Jane and Crawford Edwards
Katie and Tyler Fultz
Gene and Marsha Gray
Ann and Bill Greenhill
Melissa and Joe Greenhill
Greg and Angel Grizzle
The Junior League of Fort Worth
Kelly Hart & Hallman
Mary-Margaret and Eric Lemons
Matthew and Jessica Morrison
Jane and Roger Nober
Dr. Stuart and Emily Pickell
John Ratliff
Elizabeth and Paul Ray
Ridglea Interests, Inc.
Sanford, Baumeister & Frazier, LLP
Sean and Brooke Scogin
Charlie and Melissa Snow
ThyssenKrupp Elevator America
Helen and Michael Todora
Susan and David Weeks
Sherry Wilkerson
Named Sponsors
Fort Worth, Texas Magazine – Media Sponsor
Frank W. Neal & Associates – Party Favor Sponsor
GM Financial – Photo Booth Sponsor
Bob and Elizabeth McCarthy – Dessert Sponsor
Pediatrix Medical Group – FW Neonatology – Beverage Sponsor
Radiology Associates of North Texas – Valet Sponsor
Robert W. Baird – Mobile Bidding Sponsor
Texas Capital Bank – Entertainment Sponsor
Various Donations
Jeffrey T. Kremer
James P. and Nancy Grubbs
Helen and Michael Todora
Kathleen and David Atnip
Ridglea Interests, Inc.
Bryan and Christy Livingston
Charlie and Melissa Snow
Karol Del Real
Jane and Rush Hart
Special Thank Yous
JohnSon's Press