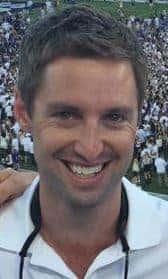 We LOVE it when one of our volunteers becomes a true advocate and champion in the community for The WARM Place! Meet Jeremy Raines. He has been a volunteer facilitator for over nine years, serves on our "Santa Calls" committee, and his families' business, RMP Industrial Supply, is one of our major corporate supporters. Since April is Volunteer Appreciation month, we wanted to introduce you to one of our all-star volunteers…
1. Tell us a little bit about yourself and what you do.
I grew up in Fort Worth, got my degree in 2004 from Tarleton State University in Stephenville, and moved back to settle into the Fairmount neighborhood with my partner, Logan, who is currently attending medical school at TCOM. Growing up, my family was always doing something for others. My parents set a great example for me and everyone around them. I'm fortunate enough to work for a company that also values giving back and serving others. RMP is an industrial supply company that supports the manufacturing industry. My great grandfather and grandfather founded the company in 1974, and my father and aunt own the company today. I serve as the Vice President of Operations. We have a great team of people and are able to keep each other focused on what's really important – our customers.
2. How did you learn about The WARM Place and what inspired RMP to give back to us?
Our company believes strongly in supporting and giving back to the local community.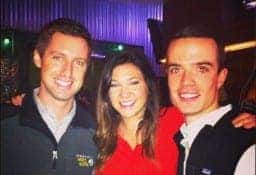 Having been a volunteer facilitator at The WARM Place since 2006, deciding on giving here was an easy call. I've seen the transformations this place has on the lives of families with my own eyes.  RMP chooses to give to the WARM Place because they truly care about the future of the families they serve, and we're proud to be a very small part of what they do. My sister, Julie, who also works for RMP, recently started volunteering as a facilitator. It's beginning to be quite the family affair.
3. Tell me how you first got involved with The WARM Place.
I first learned about The WARM Place after volunteering at a grief camp while I was in college. Many of my friends at camp were also volunteering at The WARM Place. As soon as I got settled into my career at RMP, I was able to join them. I've enjoyed every minute of it.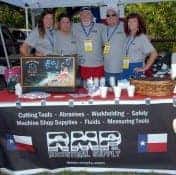 4. Why is giving to The WARM Place so important to you and RMP?
The WARM Place fills a need in our community that often times gets little attention because the subject is hard for most of us to openly discuss. The WARM Place gives children and their families a place to lean on each other and talk about their losses in a safe place. I think the realization that you're not alone in your grief is huge.  It's really hard to put into words all that this place does, but saying that it heals would be a good start.  At RMP, we're fortunate enough to be able to provide some financial support to help keep this service available at no cost to families that need it. It's important to all of us at RMP that services like these are available to help our neighbors in Fort Worth and surrounding cities.
5. What do you wish other people knew about The WARM Place?
I hope that families who have experienced the death of a loved one would find the courage to call The WARM Place and schedule an appointment to speak with one of their licensed professional counselors. I also wish more people realized The WARM Place does not charge for any of its services and exists solely because of the generosity of individuals and businesses in our community.
6. What would you tell someone who is thinking about supporting The WARM Place?
The WARM Place is a great organization for any individual or business to contribute to.  You are taking part in making sure that, at one of the darkest moments in a child's life, you are providing light and you are providing hope. Their outlook and their world will be better because you chose to give.