"Families can not only survive but thrive, if they allow their unique experiences of grief to knit them together and heal as one."
Dr. Christine Hibbert
      Even though death is inevitable, with the death of a loved one comes a stream of emotions. Grief is necessary, yet it is synonymous with pain. The family dynamic can be changed forever. There is no timetable for a grieving family. It is not an easy process and can certainly take a toll on family life.
     Grief can bring out the best and worst in families. Because everyone grieves differently, feelings after a death can be a source of conflict and discord within the family. Grief presents a new and different challenge. Children can feel alone to process their individual grief. Families desire but struggle to regain a sense of structure and balance and retrieve a sense of control.
Figuring it out together is the Key.
      Creating a place and time for connecting and communicating as a family, and talking and sharing feelings, relieves some of the struggle and promotes healing for the Whole family. It is very difficult for a family to pick up where it left off after a death loss, however eventually the family can create a new story that will develop while their loved one's memory lives on in the hearts of each person.
      Reaching out in support of one another provides love and care and attention to each other's needs. The WARM Place brings families together in the midst of their grief. Prior to each group the families arrive for a pot luck dinner. It is a time for family members to wind down from a very busy day, relax and have an opportunity to eat and share as family. For this holiday season our group members did two activities bringing family members together to share memories. Memory wreaths were made honoring loved ones no longer with us and families made stockings to share memories about their loved ones. What a treat it is to see the heart felt work and creativity of children and families coming together in….
Healing the Whole Family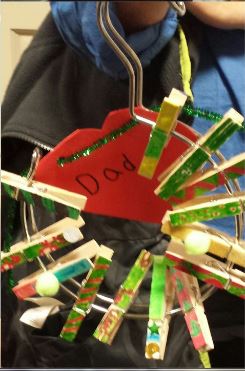 WARM Wishes,
Gina Brown, M.S., LPC
Counselor