"It's family.  The WARM Place is one big family of which we are so happy to be a part."  This is why Sanae Fulkerson loves The WARM Place so much.  Her involvement started back in 1990 when she was coordinating an Adopt-a-Family project.  She reached out to Charlie Calabrese, a WARM Place volunteer, and he led her and co-worker Shirley Wells to a family at The WARM Place.  After learning more about the families we serve and the work we do, Sanae was hooked.
That was over 25 years ago. Sanae has continued as a volunteer and loyal supporter ever since.  One of her favorite memories happened while Houseparenting one night.  As Houseparents, the primary role is to prepare the potluck dinner by setting out all the food and drinks, taking care of all the dishes, and cleaning up after the meal.  There isn't always a lot of family interaction with the Houseparents (mostly because everyone is focused on digging in to the yummy food!), but one night, a boy named Brandon asked if she wanted to see his memory box.  He took her back to one of the children's rooms and showed her a picture of his mom, a bottle of her perfume, a note she'd written to him, and a few other items.  While managing to hold back her tears, Sanae thanked him for sharing those memories with her. This is truly a moment that will stay with her forever.
It's stories like these that warm the hearts of our donors and volunteers alike.  Sanae loves The WARM Place because it "provides an embracing place for children and their families to gather and share with each other their stories of love, life and loss."  She has seen firsthand that WARM Place families come from different socio-economic backgrounds, cultures, and faiths, yet all join together to find hope and healing in the midst of their shared grief.
Sanae's husband of 11 years, Chuck, lost both of his parents as an adult.  They can't imagine what it must be like for a child to experience the death of a loved one, much less how the surviving adults find the strength to comfort their children while also grieving themselves.  It's for this reason she's happy to help in any way she can.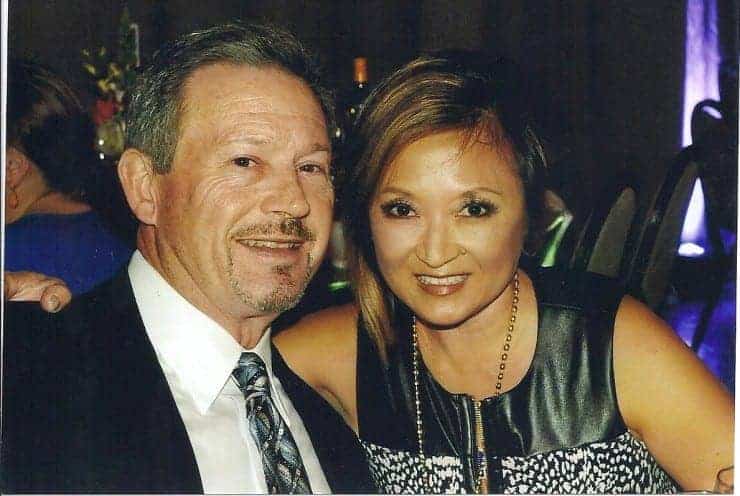 Chuck and Sanae are both retired and continue their involvement with organizations they are passionate about. They are very generous in their support of The WARM Place as well as Catholic Charities.  When they aren't volunteering, they also enjoy spending time with their family (including a new grandbaby!) as well as traveling.  They are about to celebrate their anniversary on their first cruise!
Sanae has it right – The WARM Place is all about a sense of family. This is something we want to continue to foster not only for the children and families that we serve, but also for the generous donors and volunteers who make everything we do possible.
-Katie Lane, Interim Director of Development