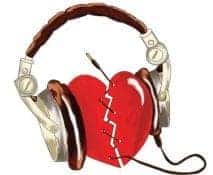 Music is a powerful way to remember your loved one and feel connected to them again. We use music a lot at The WARM Place. All of our groups begin with several minutes of calming, instrumental music to create a sense of peace and centering. Children's groups sing songs to learn about their feelings. Teen groups may listen to songs that help them remember they are not grieving alone. And every group night ends with our Remembering Song. It doesn't matter if we're off-key, singing loudly or softly, I am always deeply touched hearing the families sing this song together.
When we are grieving, music is a wonderful tool that can lift us up, take us out of our current mood, and transport us to another time and place. When we cannot find the words, a particular song may express our feelings better than anything else.
Music helps us remember our loved ones who have died, and it can help bring a sense of balance and peace back into our lives, even if it's only for a moment. Initially, music can evoke memories that bring sadness. But music can also evoke memories that bring joy and laughter. You may enjoy a particular song because your mother sang it to you as a child. Or maybe your family used to dance around the room to a family favorite. It may be a song that was played at an important event like a graduation or a funeral. You might treasure a song that gives you hope of seeing your loved one again. Whatever the reason, music can connect us to our loved ones, and maintaining that connection is so important for grievers of all ages.
One of my favorite songs about loss is "The Promise" by Tracy Chapman. It reminds me nothing can end the love we have for our deceased loved ones. After all, loved ones die, our love does not. She sings:
If you think of me

If you miss me once in awhile

Then I'll return to you

I'll return and fill that space in your heart
What song helps you feel connected to your loved one? Share it with us in this blog or on our social media pages.
All my best,
Lisa Nichols, MA, LPC-S
Program Director