Many of us struggle to find ways to help and support grieving family members and friends during the holidays. We want to help, but we often don't know where to start. We are afraid of doing the wrong thing, so we end up doing nothing at all. Here are some ways that you can reach out to and support your grieving loved ones through the holidays:
Support loved one's decisions about how to celebrate the holidays. Give them the freedom to keep or change traditions as needed. Let go of any expectations and provide a consistent, calming and accepting presence.
Offer to help with baking, cleaning, or seasonal decorating. These tasks can be simply overwhelming for those who are grieving.
Offer to help prepare holiday mail or join them in holiday shopping.
Invite the person to join you or your family for the holidays. Help plan an exit strategy in case one is needed.
Ask them what help they need for the holidays and be open to what doesn't help.
Respect their need for privacy and solitude.
Offer to share a cup of coffee or take a relaxing walk.
Listen to them. Then listen some more. Practice being at ease with whatever emotion they may be feeling.
Send them a gift. Give them a journal with words of encouragement or hope written on the inside cover.
Offer to sit with them. Let them know that they are not alone.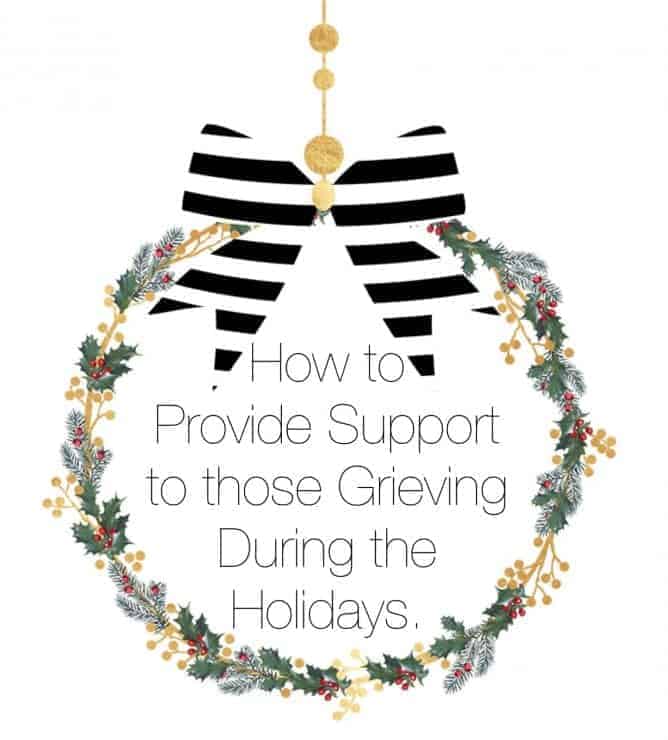 When you catch yourself thinking about grieving loved ones this holiday season, be sure to reach out to them. Remember that they need your support now more than ever. While you can't take away the pain of their loss, you can let them know that you care and that you are there for them for the long haul. Continue to check on them after the holidays and be present in as many ways as before. One of the most helpful things you can remember is that grief is not linear and grief doesn't go away after all of the "firsts". Continue to reach out to your loved ones on meaningful days and let them know that you are there for them through ALL of their seasons of grief.
WARMest Wishes,
Teresa Bartnicki, MA, LPC-Intern