If you can believe it, it's already that time of year! North Texas Giving Day 2018 is right around the corner on September 20th! You've probably seen plenty of publicity by now, but it's for good reason—this year we are celebrating the 10th anniversary of this record-breaking day of giving!
Since 2009, North Texas Giving Day has generated $195 million for over 2,700 local nonprofits in the North Texas Community. In 2017 alone, $39 million was raised through more than 137,000 donations!  Just look at the growth of this fundraiser over the past nine years!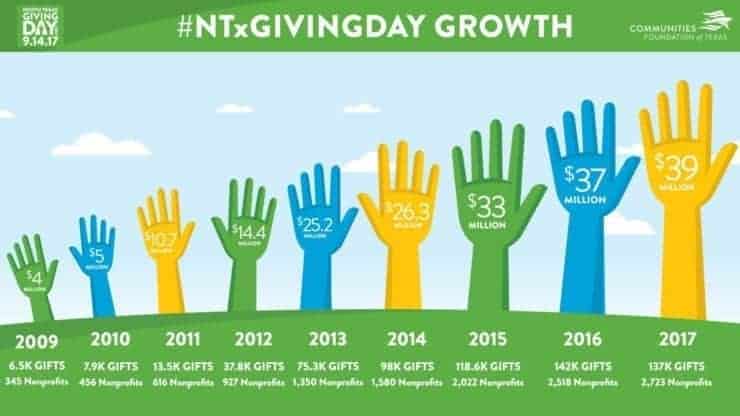 For The WARM Place, 2017 was also OUR biggest year for North Texas Giving Day! We were blown away with 189 donors contributing over $47,000! And thanks to all our generous supporters, The WARM Place was in the top 5% for dollars raised, out of all 2,910 participating agencies! Thank you!
This year our goal is to raise $50,000! Your support will provide a month of our services to EVERY child currently enrolled at TWP—that's all 400+ children funded in just one day of giving!
So, let's raise the FUN in FUNdraising!
You can make a gift any time between now and midnight on September 20th, and your gift will receive bonus funds through North Texas Giving Day!  This is the perfect time to make a contribution that will be leveraged, thanks to this amazing day of philanthropy!
In addition, this year to celebrate the 10th anniversary of North Texas Giving Day, you can be a super fan and create a FUNdraising page! This exciting new feature allows you to highlight The WARM Place and help us reach our fundraising goal. With your personal FUNdraising page, you will be able to raise more dollars and touch more lives during this 18-hour giving extravaganza! To create your own FUNdraising page to benefit The WARM Place, click here.
Whether you're a new donor looking for a way to create change in our community, an individual looking to give back through donating, or an eager ambassador ready to spread the word about our mission, there's a place for you to get involved!  So be a part of the fun in FUNdraising next Thursday!  Make a gift in support of WARM Place children grieving the death of a loved one.  Your gift, no matter how big or small, will make an impact in the life of a child.