Meet Toni – one of our loyal WARM Place volunteers! We are so lucky to have Toni as a group facilitator at The WARM Place for over 20 years! Toni has a passion for helping grieving children and her dedication to our mission shows. She knows how to put a smile on your face and is always willing to help out. Read more about Toni and her WARM Place experience below.
---
Tell us about yourself – Where do you live? What you like to do for fun?
I live in Saginaw and have a pet gecko that lives on my porch.  I don't have any biological children, but I invest a lot of my time and energy into other people's children (supporting them in their sports, theater, recitals, etc.), I especially love spending time with my brand new great nephew and watching him grow!
For fun I like to do anything outdoors, watch football (go Cowboys), go camping, listen to live music, play games/cards, fishing.
What brought you to TWP as a volunteer?
I had just gotten home from working at a summer camp in which the last week is a grief camp for children.  I met some people who were volunteering at the grief camp who also volunteered at TWP.  After researching TWP, it sounded like something I might want to be a part of.  They were having a little Open House/Carnival and I thought I would go and check it out.  This was at the original house by Cook Children's Hospital.  As I was walking up the sidewalk, Peggy Bohme, the co-founder of TWP, was standing on the porch.  I saw a child with a balloon tied to his wrist see her standing there and he yelled her name and went running towards her.  She held out her arms as if she was welcoming him home.  It is an image that is lasered into my memory and that I've held in my heart for all these years.  It's that warm, safe welcome that Peggy gave to that little boy that made me know I was about to embark on something very special.  I knew at that exact moment this is definitely where I wanted to spend my time.
How long have you been volunteering with TWP?
This past August was 22 years I've been a volunteer at TWP with the same age group and on the same night.
What is your favorite thing about volunteering with TWP?
My favorite thing about volunteering at TWP is knowing that I'm a small part of something much bigger than me. TWP keeps me grounded and balanced.
Being able to see a child go from being quiet, confused, sad, broken to confident, better understanding of their feelings, happy, and has gained coping skills to continue their grief journey is heartwarming.  To understand that "it's okay to be happy and laugh" is equally important as "it's okay to be sad and cry".
Hearing a newcomer say they had a good time in group and they can't wait to come back never gets old!
And, I love working with all the other volunteers.
You have been to quite a few Family Nights! Which has been your favorite and why?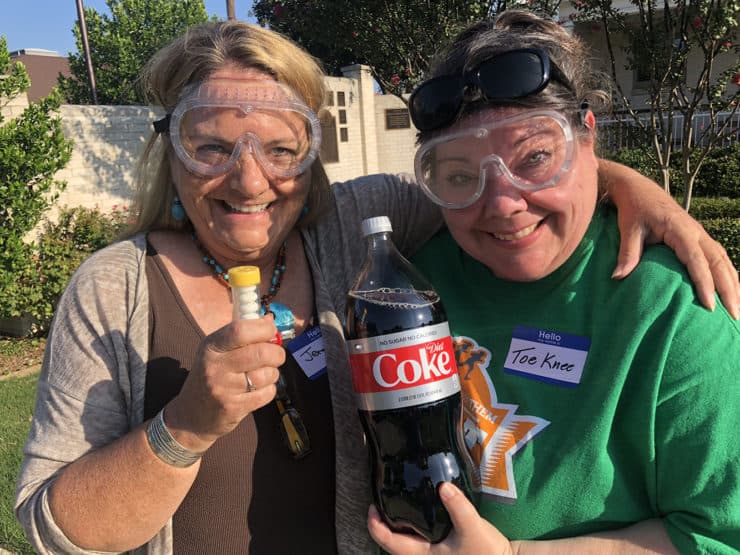 I have enjoyed all of the Family Nights!  What a great way to stay connected, have fun, and meet other families!  There is a tie for my two favorite Family Nights…..Science Night and Music Night!  For Science Night, I loved seeing the kids get showered in the Coca Cola being sprayed five feet into the air after dropping the Mentos in!
I've really enjoyed the social distance, pandemic, CARnivals TWP has been hosting, as well.  Just another way of not letting obstacles get in the way to let the families know we are still here for them.
What would you say to someone who is thinking about volunteering at TWP?
I have talked to many people about volunteering at TWP.  I've told them that you will receive ten times as much as you put into it.  You will be blessed more than you know when you relax and know that you are a part in a child's grief journey. We are here to help them be heard and loved and given the opportunity to connect with others who are experiencing those tough, and often scary, uncomfortable deep feelings.
DO IT!