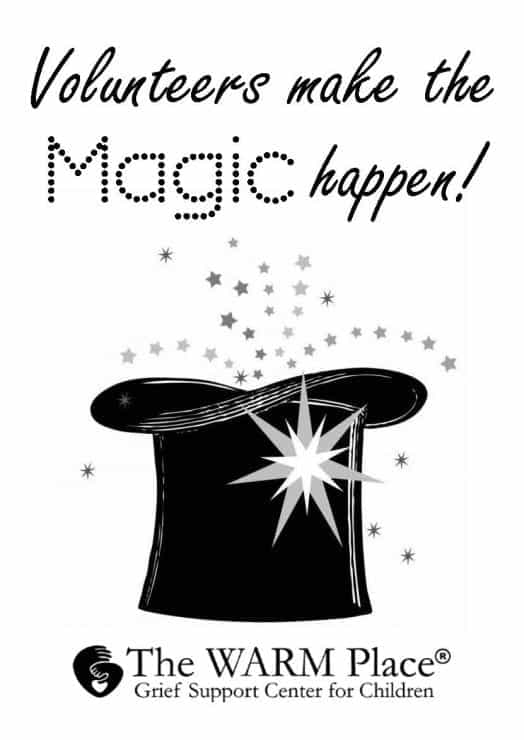 It's April, and that means it is officially Volunteer Appreciation month! These days, just about everything has a "day", or "week", or even a "month"-  but for us at The WARM Place we look forward to every April as an opportunity to recognize the reason that our program is possible…our VOLUNTEERS!
This past Saturday we hosted our annual Volunteer Appreciation event. The theme of the party, the décor and the catering may change every year, but one thing remains static- our focus on saying THANK YOU to our volunteers who make our mission possible. This year, the theme of our celebration was "Volunteers Make The Magic Happen". We decorated the house to look a little more magical (complete with magic hats, stars and playing cards) and presented a colorful array of party food for everyone to enjoy.
Right now, The WARM Place has over 200 volunteers! Board Members, Event Committees, Facilitators, House Parents, and even Certified Therapy Dogs and their handlers donate their time and energy to the success of our Grief Support program.
Our organization is so fortunate to have such a large, dedicated group of volunteers who return to our house, week after week, month after month, year after year to comfort and companion our grieving WARM Place families.
Some volunteers have just started their journey at The WARM Place, while others have been with us for over a decade (or in some cases, TWO!) No matter how long a volunteer has been with our organization, we are incredibly grateful for their gift of service. Without this gift, it would be impossible for us to provide our program to our families free of charge- which we have been doing for 27 years and counting!
"Thank You" doesn't feel quite big enough for the gratitude we feel for our volunteers. Sometimes, it takes a little MAGIC to get a message across.
Please take a moment to watch an excerpt from this year's Volunteer Appreciation entertainment- a magic show performed by "Thorston the Great", who also happens to be a WARM Place Dad. His heartfelt expression of thanks helps to demonstrate what a tremendous gift our volunteers give every time they come to The WARM Place.
Warmly,
Natalie Chapa
Volunteer Coordinator
Click here for more information on becoming a volunteer at The WARM Place!