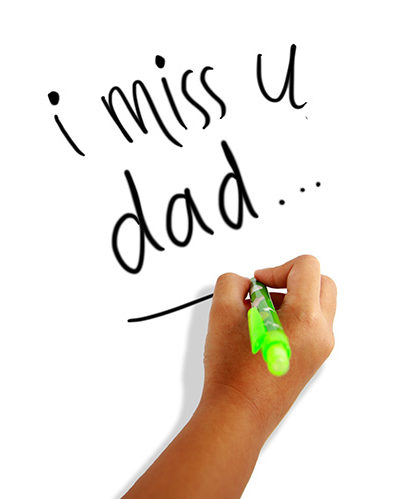 Father's Day, like many other significant calendar holidays, can elicit a wide array of feelings.  Father's Day carves out a moment in time outside of our day-to-day, to give thanks, share stories, celebrate, and send love to those father figures who have been influential in our lives.  Not only does Father's Day create these special moments with father-figures, but Father's Day may also bring hardship, sadness, and loneliness.  These feelings may be brought on because children and families are not able to be with their father figure due to death, separation, or distance.  Though there can be a variety of difficult feelings to process on the day, it is important to provide yourself with love and compassion on the days leading up to Father's Day and the days following.  This is a holiday that many households choose to celebrate, but celebrations and feelings are not uniform among a family or even among the members in a family unit.
When significant dates are approaching, added stress and an expectation to do specific activities may become a concern for families.  Families may feel pressure of what they "should be doing" and not what is best for each member of the family.  There is no right or wrong way to prepare and proceed through a holiday when remembering a loved one. The most helpful thing to do is what is best for you, your children, and your family. No matter if you choose to look at old pictures of dad, discuss favorite memories, eat dad's favorite food, watch dad's favorite movie as a family, or visit the grave-site or location the cremains were spread, it is important to allow your family to grieve and remember dad in the way that promotes healing among every individual, as well as the familial unit.
It is crucial to remember that grief impacts everyone differently and at different times.  Some families may have members who would like to participate in many activities to remember their loved one who died, and some may feel more comfortable with more minimal celebrations.  No matter if this is your first Father's Day without your loved one, your tenth, or more, be kind to yourself and listen to your needs.  In grief, every day is a journey and no two days may feel the same.  The only person who knows your needs and feelings, is you.