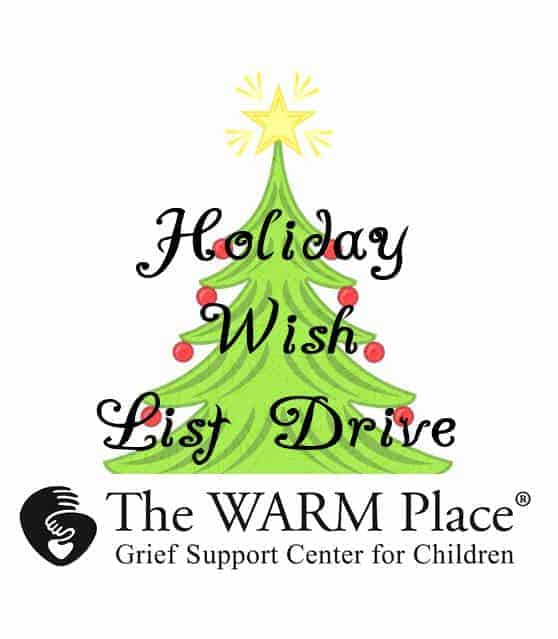 This holiday season, gather donations to help our kiddos at The WARM Place!  Are you looking for a valuable community service project or team-building activity for your corporation, school, community organization, or church?  We invite you to make a big difference in the lives of grieving children by hosting a donation drive.
How to…
Just Say "Yes" to Host A Drive or Donate Wish List Items
Hosting a donation drive is one of the easiest and most fun ways to help provide items we need every day for our Grief Support Program.  Consider making tags listing each item and hanging them on a Christmas tree for people to select.  They can just return the tag to you with the donation.
Collect Your Donations
Create a central place to collect donations whether it's an office lobby, community kitchen or your home.  If a cash or check donation is preferred, simply secure donations as needed to give to us.  All checks should be made out to The WARM Place.  Donations can also be made online here.
Drop Off Your Donations
Please arrange for delivery of all donated items to:
The WARM Place
809 Lipscomb St.
Fort Worth, TX  76104
Spread the Word About Your Donation Drive
Most people want to help.  They just need to be asked.  Invite, encourage, and even solicit friends, peers, coworkers, family and neighbors to donate to the drive. You might send emails, use postcards or flyers, or post to social media sites like Facebook. Bring up the drive at meetings and group gatherings.
Your in-kind donation helps The WARM Place save money on basic expenses so we can provide our grief support services at no charge to grieving children.
If you're interested in hosting a Wish List Drive, please contact Natalie@thewarmplace.org for more information!